5Dimes Sportsbook

There are many online sportsbooks you could join, but you have good taste. This is why you should sign up with 5Dimes. It is the sports betting site that all the pros swear by. It has a packed sportsbook, featuring all the major and minor sports. 5Dimes allows great flexibility when it comes to odds and wager types. It's one of the few sites where you can buy points, which means you can manipulate the spread in your favor. One of the best things about 5Dimes is their excellent customer service department. This 5Dimes review will go over these and other wonderful aspects of the site. By the time you finish reading this, you'll know why 5Dimes is a goldmine of sports betting opportunity.
Is Is 5Dimes Legal?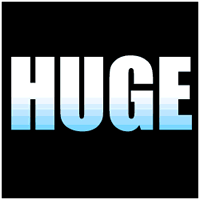 Yes. 5Dimes follows all laws that apply to sports betting. There are three laws that work together so that 5Dimes must be based outside of the United States in order to function legally. The first of these is the Professional and Amateur Sports Protection Act. This is a law that was passed in 1992 in order to halt the spread of sports betting-related criminal activity. Currently, there are only two states that have sportsbooks. They are Nevada and Delaware. These two states were given special exemption by PASPA to draft their own specific sports betting laws.
PASPA is not the most popular law, because it gives Nevada and Delaware an unfair economic advantage. Critics of PASPA say that the law is unconstitutional and biased, and that all states should have the right to decide for themselves whether or not they want to allow sports betting. In fact, New Jersey recently brought a challenge against PASPA to the United States Court of Appeals.
It seems pretty obvious that times might be changing. People are not happy with PASPA. They don't want the government arbitrarily dictating what states can and cannot do. Right now, sports betting is more popular than ever. Yet sportsbooks are so scarce in America that people have to use overseas sites. Luckily, 5Dimes is a great, legal site that takes safety and security very seriously.
How Do I Make A Deposit at 5Dimes?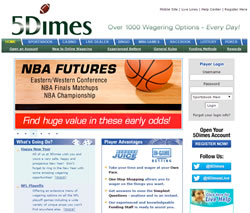 Depositing money is as easy as going to 5Dimes' online cashier page and choosing a deposit method. Credit/debit card is the most popular. Your deposit takes less than a minute, and there is absolutely no fee involved. The minimum deposit is $50, and the maximum is $500. Your first deposit must be through Visa. Person to person deposits use Western Union or MoneyGram for delivery. You need to send from a money transfer agency. The minimum is $100 and the max is $700. The fees are somewhere between $9 and $15, but there is no fee for deposits in excess of $250. Money orders are nice if you want to deposit a lot of money at a time. There is no max, and fees are covered on deposits of more than $1,000. Also, consider the Amazon gift card and the Walmart gift card, which doesn't have any fees or limits. Bitcoin works for deposits, too. All you have to do is get a bitcoin account, make a bitcoin wallet and a bitcoin address and you are ready for the big time!
How Do I Request A Payout at 5Dimes?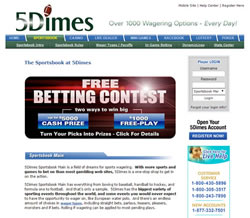 This is just about as easy as making a deposit. Visit the online cashier to see all of 5Dimes' great available options, including person to person and cashier's check. With person to person, your options are MoneyGram and Western Union. It takes less than 48 hours, and there are two MoneyGram types you can choose from: MG Red and MG Express. MG Red has no minimum, a maximum of $785, and fees between $10 and $75. MG Express only pays out in sums of $100, $200, $300, $400, $500, and $600. There are no fees for MG Express. Cashier's check is a very common way to get payouts. It takes no more than two weeks, has a min of $1,000, a max of $7,500, and fees between $40 and $80. You can use many other payout methods, like money order, bitcoin, and gift cards. Check the 5Dimes online cashier for all the dirt.
What Other Cool Special Features Does 5Dimes Sportsbook Offer?
Live in-game play and mobile betting are two awesome features you will certainly want to try out. Live in-game betting is a special feature that allows you to watch the game live on your computer or phone and bet at the same time. You can bet on all kinds of things, not just the outcome of the game. Mobile betting is a handy feature that lets you access 5Dimes from your mobile phone. It is fun, convenient, and technologically innovative. The days of being too busy to make your bet are over. Best of all, there is nothing for you to download and it is completely free.