Safe Withdrawal Options for Sportsbooks for the USA
All sports bettors know that the second most exciting part of the process besides watching the game is collecting the loot. The many safe USA sportsbooks on the web right now offer plenty of ways to do this. While there are certain federal laws that restrict some withdrawal methods, that doesn't mean that you are out of luck. As you will see, most sites offer upwards of ten different ways to collect your winnings, and all of them are legal, safe, and efficient.
This page will be a resource for anyone that is wondering what types of withdrawal methods they will be able to pick from at a given online sportsbook. You may be surprised at how many options there are, and you may be confused why certain methods such as credit card deposits aren't available. We will cover all of this so you can feel confident requesting your money at one of the best online sportsbooks.
Are Sportsbook Withdrawals Legal?
Yes, sportsbook withdrawals are legal. The sports betting sites we review are some of the safest and most legitimate sites that you will find anywhere. They follow the law unceasingly and unerringly. And what are these laws, you might ask? Well, for starters, there's the Wire Act, which dates back to 1961. By the late '50s and early '60s, organized crime was becoming a problem. Much of it centered on sports betting. Therefore, the Wire Act was born. The law specifies that no organization shall legally be able to transmit betting information or currency from one state to another using a wire communications device. Three decades later, Congress passed the Professional and Amateur Sports Protection Act (PASPA), which outlawed sports betting nationwide. The only states that were allowed to have sportsbooks were Nevada and Delaware, and this was because they had sports betting for years before PASPA was enacted.
While these sports betting laws do not affect sportsbook payouts per se, they are the reason sports betting sites have to function outside of the United States in order to be legal. You see, offshore sports betting sites are not bound by US law. There is no law that says you can't withdraw money from an overseas account. In fact, there is only one law that affects sportsbook payouts directly. We'll get to that in a second.
Are Sportsbook Withdrawals Safe?
Yes, sportsbook withdrawals are absolutely safe. They follow all of the laws that we've talked about (the Wire Act and PASPA). Okay, now it's time to talk about the one law that affects payouts directly. It's called the Unlawful Internet Gambling Enforcement Act (UIGEA), and it specifically prevents you from using credit cards to make withdrawals. The UIGEA was very controversial when it was passed in 2006, and it remains so today. Why was it so divisive? Well, for one, no one in Congress had a chance to actually read the thing, because it was shoved through at the last minute, attached to the end of the Safe Port Act, a completely unrelated bill having to do with homeland security.
How Do I Make A Withdrawal?
Making a withdrawal is a piece of cake. All you have to do is go to the sportsbook's online cashier or funding methods page. You will see a list of methods available. Since you've made a deposit already, this ought to be relatively easy. The payout methods are on the same page as the deposit methods. There are many options to choose from. If you click on any one of them, you will see all the details on how to request a payout. Once you've chosen a payout method, just sit back and wait for the cash drawer to open. Well, a cash drawer won't literally open. I meant it in more of a metaphorical sense, but hopefully you get my point.
What Payout Methods Are Available?
The online cashier at safe USA sportsbooks will have a whole bunch of payout options to choose from. Remember, credit or debit cards are not available because of that fly in the ointment known as the UIGEA. Lucky for you, you can use checks and cash wires, both of which are very popular and safe methods. We are going to dip below the surface in just a minute and tell you in greater detail about the payout methods you have at your disposal. Each of these methods has varying speeds and limits.
Checks
There are several different types of checks that you can use. A cashier's check has to be deposited through an automatic teller machine as soon as you receive it or no more than two weeks. The minimum is around $1,000 and the maximum is approximately $7,500. Fees are between $40 and $80. Other kinds of checks include check by mail, check by courier and check EXPRESS. These can be deposited straight into your bank account. The speeds are as follows: maximum of 30 days by mail, 15 days by courier, and 7 days by EXPRESS. These methods all have different fee amounts: $25 for mail, $35 for courier, and $50 for express. These three methods all have a minimum of $500 and a maximum of $2,500.
Cash Wire Transfers
Cash wire transfers are also known as person to person. You need to contact either Western Union or MoneyGram in order to request a cash wire transfer. It takes 12 to 48 hours depending on the site you use. MoneyGram has several different options: MG Red, which doesn't have a minimum, but does have a maximum of $785 and fees ranging from $10 to $75. MG Express only does payouts in the amounts of $100, $200, $300, $400, $500, and $600. There are no fees for MG Express.
Bank Wire Transfers
In order to request a bank wire transfer, you need to fill out a complete instruction form including the amount you want to withdraw. This can be anywhere from $500 to $24,900. Fees are anywhere between $45 and $75. Bank wire transfers are relatively fast. You usually receive your money within ten business days.
Cash/Gift Cards
Accepted cards include My Cash Card, Amazon gift card, and Walmart gift card. You can make a payout request any time, and it usually takes less than 24 hours to receive your money. With My Cash Card, you can only withdraw in the amount of $500. Amazon gift cards have a minimum of $50, and the Walmart gift card has no minimum or maximum. If you use the Amazon gift card, you can withdraw up to $1000, but only in increments of $50. There are no fees for any of the three card types.
Bitcoin
Bitcoin allows you to transfer your money from your online sportsbook account directly to your bitcoin account. You need to create a bitcoin wallet and a bitcoin address in order to transfer money. Payouts take no more than 48 hours. Some sites set the bitcoin payout limit between $20 to $3,500, although other sites stipulate that if you use your bitcoin account to make deposits as well, there is no payout limit.
SportsBetting Sportsbook
- Accepts Legal Betting By Players From All 50 States!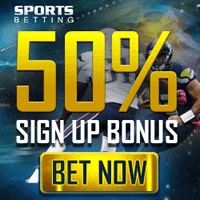 SportsBetting.ag hits all the marks when it comes to a great online sportsbook. First off, it is free. This is a luxury that didn't exist for U.S. residents a decade ago. Secondly, the powerful people behind the site get their lines from the same oddsmakers as the big Vegas venues, so you can be sure that you will be ahead of the pack when your favorite team is playing. Thirdly, this site offers over 40 sports to bet on, including political and entertainment events, so you will always have something to put money on if you are an avid fan of competitive games.
Everyone knows that the most important part of playing the odds is how you can collect your precious winnings. SportsBetting excels in this regard by offering a slew of excellent payout methods. The most popular amongst members are the cash wire transfers via MoneyGram or Western Union, or a check in the mail. Both are great for mid-to-large size withdrawals, and they are quite fast. Users usually receive their checks (the slowest method) in under two weeks. Aside from these two options, you will also find bank wire transfers, Bictoin transfers, gift cards, and more. When it comes to collecting your money you want reliability, and SportsBetting has it in spades.
Safest U.S.A. Sportsbooks