Best Sports Betting States in the USA
There are so many opportunities out there for sports fans right now. With the sheer number of safe USA sportsbooks on the internet, everyone and their mother should have no problem finding a great one. Nevertheless, there are some sites that don't accept members from all 50 states, and there are some that do. To understand which ones you can sign up for, you need to understand your state laws regarding wagering. For instance, some states do not have a set gambling age, while others put it between 18 and 21.
Let's take a look at the U.S. states and how they view sportsbooks. After reading this page, you will know where you can wager safely in your state, and how old you have to be. We will also review some of the best online bookmakers in the world, and at least one of them is sure to accept you as long as you meet the age requirements and have a valid email address.
Is It Legal To Bet On Sports In My State?
The easy and quick answer is yes. However, there are many complications and nuances involved in legal sports betting. Nevada and Delaware have legal sportsbooks, although Delaware's options are limited. Anyone from any state can go to land-based Nevada or Delaware sportsbooks. These are the only two states that have state sanctioned sports betting. They also are the only states to have online sportsbooks. This is where it gets complicated. Although any US citizen can go to a land-based sportsbook in Nevada or Delaware, out-of-state residents cannot go to one of their online sites. For online betting, you have to use a site that is located outside of the US.
No matter what state you live in, you legally bet at an overseas online sportsbook. The laws that have to do with betting in the US do not hold any water in places like Canada or Costa Rica. There are three important statutes that you should be familiar with. They are the Wire Act, the Professional and Amateur Sports Protection Act (PASPA), and the Unlawful Internet Gambling Enforcement Act (UIGEA). These three laws work together to make it difficult to find legal sports betting in the United States. You can learn more by visiting our laws page.
How Old Do I Have To Be To Bet In My State?
This depends on the betting age set by your state. The majority of states set the age somewhere between 18 and 21. It's a bit confusing, really, because some states have very vague age laws. For example, some states have different age laws depending on where you are in the state. Some states have no age laws at all. If you live in one of these legal no-man's-lands, check to see what the site says. Betting sites usually set the age at 18. However, if your state says you have to be 21 but the site says you have to be 18, definitely follow your state age law. If you are not sure about your state age laws, contact your state representative.
Has Anyone Ever Gotten In Trouble For Betting On Sports In My State?
No, this has never happened. As we've already mentioned, it is legal to bet on sports in your state as long as you are using a site that is not based inside the US. These sites are still technically US sites because they are geared toward US players, but they are not subject to the harsh laws that govern US-based sportsbooks. One thing to keep in mind is that these laws are not meant to punish regular folks who make small bets every once in a while. The laws were originally created to crack down on the mob-related crime that was running rampant in the sports betting industry.
Why Are There So Few Land-Based Sportsbooks?
This is because of the Professional and Amateur Sports Protection Act (PASPA). This law was passed in 1992 and succeeded in banning sports betting in all states with the exception of Nevada and Delaware, which were given a one-year window to draft their own sports betting laws. Nevada and Delaware both had legal state-sanctioned sports betting prior to 1992 and the drafting of PASPA, so they were granted special treatment. Critics maintain their stance regarding the unconstitutionality and inherent bias of PASPA, and have been working hard to repeal the law. Recently, New Jersey lawmakers took their case against PASPA to the United States Court of Appeals. Unfortunately, New Jersey lost.
PASPA is the reason the only legal state-sanctioned sportsbooks are in Nevada and Delaware. Anyone from any state can go to a Nevada or Delaware sportsbook as long as they are of age. Most people live too far away from either of those states to make the trip. The lack of available land-based options is partly responsible for the popularity of online sportsbooks, which any American citizen can legally use as long as it is based somewhere outside of the US.
Can I Use Real Money To Bet On Sports Online?
Yes, you can, but it's technically not money when it goes into your online sportsbook account. It's more like credit. You use real money to make a deposit into your account. You can add to or withdraw the credit as you see fit. It's a bit similar to how land-based casinos exchange hard currency for chips. When you win a bet at an online casino, your account is credited, and you can withdraw as cash. It's really quick and easy.
Will My Money Be Safe At An Online Sportsbook?
Yes, your money will be safe and sound. The best sportsbooks ensure that you will always be protected. The sites do this through their technically sophisticated security features. Many sites hire techspert security teams who are paid very well to test for security breaches. Most sites are encrypted, which means they are coded so that no one without a code key can hack into the site. All of these sites include password protection and firewalls. Believe me, these sites take security and safety very, very seriously.
Are There Any Special Incentives To Join An Online Sportsbook?
Yes, the best sports betting sites are actually superior to land-based sportsbooks in many ways. For one thing, land-based sportsbooks don't offer the valuable bonuses that sports betting sites do. For example, it is not uncommon to offer a welcome bonus of up to 50 percent on your first online sportsbook deposit. Many of them offer reload bonuses, which give you a percentage off of every single deposit you make. Reduced juice bonuses cut the interest on your bet up to 50 percent. Not too shabby, if you ask me.
Other great reasons to join an online betting site include convenient features like mobile betting, which lets you access the sportsbook and online casino on your cell phone. Why travel all the way to Las Vegas when you could just sign into the mobile betting page? Also, live in-game play is a really neat feature that allows you to bet while you are watching the game live. Your bets aren't just limited to the final score, either. You can bet on specific plays and actions. You'll have more control over what's happening. These perks are available on most safe sports betting sites for US residents.
Bovada Sportsbook
- Safe, Secure Deposit Methods for US Players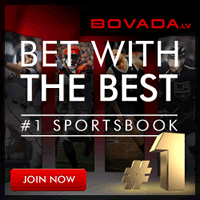 Bovada is a trustworthy sportsbook that has been around for over 20 years, and operates out of our neighboring country, Canada. The site is overseen by the Canadian gaming commission and is a fully licensed an insured sportsbook. This betting venue has been serving not only the US and Canada players, but also Australia, Europe, and some of Asia. Customer satisfaction means everything to this domain and they have built a huge following with millions of members. Serious sports bettors rank it as one of the best sites in the world.

There are a handful of states in the U.S. that either already have sportsbooks, or have iffy laws concerning the pastime. Because of this, Bovada is not currently accepting residents from Maryland, Delaware, Nevada, New Jersey, or New York. If you happen to live in any of these states, there are plenty of other sites that you can join, just search around our site. If you are anywhere else, pat yourself on the back because you are able to be a member of one of the greatest sportsbooks the internet has ever seen.
Safest U.S.A. Sportsbooks