BetOnline Sportsbook

I don't know about you, but I love to go to Vegas to bet on sports. I love that feeling of anticipation as I wait for the game to end, knowing that my team is going to win. Unfortunately, I don't live anywhere near Nevada, so I can't easily drive to a land-based sportsbook. Luckily, I discovered a great alternative: BetOnline. It's a stacked and loaded online sportsbook that offers pretty much every sport you can think of. This BetOnline review will give you the nitty gritty on this dynamic sports betting site. You'll learn about deposits, payouts, bonuses, and mobile betting. You'll also find out everything you need to know about safety and legal issues. Therefore, now that you've bought the ticket, it's time to take the ride. First up, laws.
Is It Legal To Bet On Sports?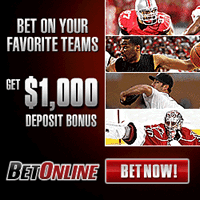 Yes. Sports betting is legal as long as you use the sites that we recommend. If a site is based inside the United States, there are a lot of rules and regulations. The only states that can have sports betting, land-based or otherwise, are Delaware and Nevada. This is thanks to the Professional and Amateur Sports Protection Act (PASPA). The law granted Nevada and Delaware special exemption from federal law and allowed them to write their own sports betting laws. This is the reason why anyone from any state can go to Reno or Vegas and bet on sports. If you want to use an online sportsbook, however, you have to use an overseas site unless you live in Nevada or Delaware.
The safe US Sportsbooks we recommend, like BetOnline, are based outside of the United States and are therefore exempt from US law. This includes PASPA as well as the Wire Act, a law dating back to 1961 that penalizes any individual or organization that transmits wagering information or money from one state to another using a wire communications device. The reason for both PASPA and the Wire Act was to prevent organized crime from taking over sports betting. The law says nothing about average sports bettors placing a bet every now and then.
Is It Safe To Bet On Sports at BetOnline?
Yes, especially at BetOnline. There are many online sportsbooks out there that are not safe or trustworthy, but talking about them is a moot point, because they don't add up to a hill of beans compared to BetOnline. Many sites claim to be safe, but on closer inspection they are not. BetOnline has been advertised on Fox Sports, CNBC, and many other media outlets. They are outfitted with some of the most high-tech security available, so you know that your money and personal identity will be safeguarded. The way they ensure your safety is through encryption, firewalls, password protection, and other web security features that make it very difficult for any unauthorized person to hack into the site. BetOnline is also very safe from a legal standpoint. They have a gaming license and have won numerous industry awards.
What Is The Signup Process?
When you visit BetOnline's homepage, you will need to enter your name, email address, and date of birth near the top right. Click the red tab that says "join now." You will be redirected to a page where you must enter some more personal information. Anyone can sign up as long as you are following your state age laws. These laws vary from state to state, but it's always somewhere between 18 and 21. If you live in one of the handful of states that do not have any specific age laws, just go with the legal age set by BetOnline, which is 18. Once you've completed the signup process and opened your account, you can start making deposits.
How Do I Make A Deposit at BetOnline?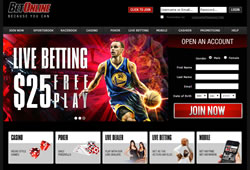 There are many ways to make a deposit to your BetOnline account. Most people use credit or debit cards. They take very little time to go through. The minimum deposit is $50, and the maximum depends on the kind of credit card you are using. There is a 6.5 percent transaction fee. If you don't have a credit card or just want to try a different deposit method, consider person to person transfers. You can use either MoneyGram or Western Union. To do this, you need to fill out a WU or MG for online and give the confirmation number. The min/max is $50 and $900, and the fee is 2%. However, the fees will be covered if your deposit is more than $300. You can try a few other deposit methods, like money orders, bitcoin, or bank wire transfers.
How Do Get My Money Out Of My Account?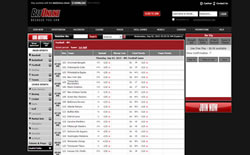 You need to request a payout. Go to BetOnline's cashier page. You will be presented with a list of withdrawal methods. These include person to person, which is speedy and easy. The min/max is $50 and $600, with a fee ranging from $26 to $101. You can choose check by mail, check by courier, or check EXPRESS. Each of these check methods comes with different fees and limits. Bank wire transfer is a good option for high-rollers because the maximum is a sky-high $24,900. If you do a lot of business online, bitcoin is a good payout method. It is what's known as e-currency.
Does BetOnline Have Other Cool Features?
Yes, BetOnline is known for their bonuses and special features. You can redeem the welcome bonus, which gives you 25% on any deposit of $50 or more up to $1,000. My favorite bonus, however, is the reload bonus, because you can use it on every deposit you make and it gives you 50% off. Bonuses do include rollover requirements (the amount of actual money you need to spend before you can use your bonus) and promo codes which you must include in an email in order to get your bonus. The main reason for the promo code is to let the site know which bonus you want to use.
What Other Cool Special Features Does BetOnline Offer?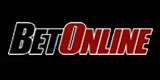 I want to quickly mention two other features: mobile betting and live in-game play. Mobile betting enables you to use BetOnline from your mobile phone. It's an easy and convenient way to play the books. Live in-game play lets you watch the game live, in real time, as you bet on multiple actions of a game. It's great for anyone who wants an interactive, hands-on safe US sportsbook.